Full Lined V-Port Ceramic Ball Valves
Full Lined V-Port Ceramic Ball Valves
Brand : FOYO
Product origin : XIAMEN
Delivery time : 30 DAYS
Supply capacity : 200 PCS
V-port Ceramic ball valves is designed to fulfill more precise and stable control performance for different abrasive and corrosive applications.
Specification:
Type: Full Lined V-Port Ceramic ball Valves
Size: DN15-DN200(1/2"-8")
Pressure Rating:
PN10,PN16,PN25,PN40,CL150,CL300,JIS10K, JIS 20K
Body Material:
WCB, A105, SS304, SS316, SS316L
Trim Material:
ZrO2, 99% Al2O3,99.7%Al2O3,SSIC, STC, Si3N4
End Connection:
Flange, ASME B16.5, EN1092-1, JIS B2220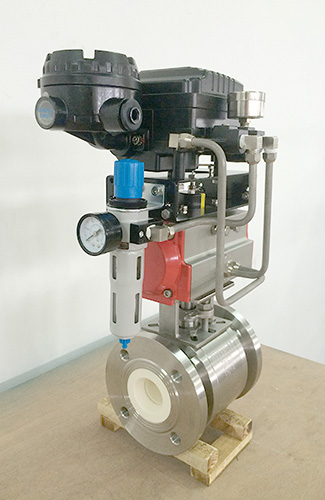 Typical Applications:
For most of control valves including globe type control valves or V ball control valves, medium flow velocity will reach the maximum when valve is at small opening position, then the high speed medium will erode ball, outlet seats and outlet body. If medium contains solid particles, erosion will be much more serious.
Many valve manufacturers and technicians spend a lot of time and cost to improve abrasion resistant of control valves by improving structure, but the effect is not satisfactory. Especially if medium is both abrasive and corrosive, the only way is choosing a right material; there is no better way to solve this problems.
It's well known that advanced ceramics materials, including high pure alumina, zirconia, solid tungsten carbide and silicon nitride, which can provide fundamental solutions to the corrosion and abrasion problems. As a professional ceramic valve manufacturer, FOYO developed V-port ceramic ball valves to meet these severe abrasive and/or corrosive applications.
It is proved that FOYO V-port ceramic ball valves have much better performance than any other soft seated and metal seated control valve. If you want to install V-port ceramic ball valves in your non-typical applications, please contact FOYO's experienced sales engineers for professional proposal at sales@foyovalve.com.
Design Features:
1. Floating ball or trunnion ball
FOYO provide two basic structures for ceramic V ball valves: Floating ball and trunnion ball. For 4" (DN100) and smaller,the valve has a floating V port ball, and for 5" (DN125) and larger sizes, trunnion mounted V ball is provided.
For other main features of V-port ceramic ball valves, please refer to ceramic floating ball valves and ceramic trunnion ball valves. Or contact us at sales@foyovalve.com for more detailed technical information of ceramic V ball valves.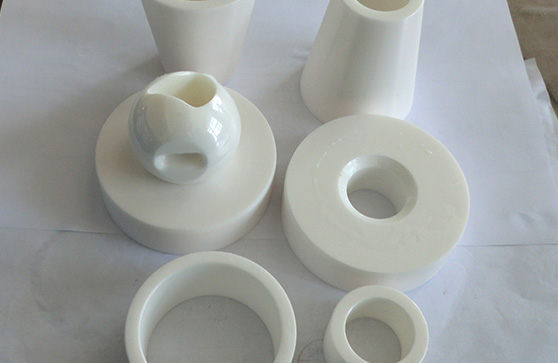 2. The parts touching medium are all ceramics---Ceramic fully lined
Because the mediums are mostly high abrasive and corrosive, ceramic components are assembled into forged metal body of V-port ceramic ball valves which absorbs most physical loads and shock from pipinglines. The medium will not directly touch valve body, therefore no parts will be worn out or corroded by the aggressive medium.
3. Bare stem valves, Pneumatic and electric control system
Generally V-port ceramic ball valves are actuated by pneumatic actuators or electric actuators. Foyo has well trained technicians to assemble complete pneumatic and electric actuator onto valves. We can assemble all possible accessories to ceramic V ball valves per customer's requirements, such as pneumatic actuators, limit switch, electric-pneumatic petitioners, solenoid valves, filter and regulators, and smart electric actuators, etc.
FOYO can offer bare stem ceramic V ball valves to customers, so that they can assemble their actuators onto valve by themselves. A yoke with ISO 5211 mounting pad is provided along with bare stem ceramic V ball valves for easy installation.
4. Various trim of ceramic V ball Valves
V-port ceramic ball valves, also named ceramic v ball valves, have equal percentage EQ% flow characteristics, FOYO provide 30°, 45° and 60° V port balls to fulfill more precise and stable control performance for different applications.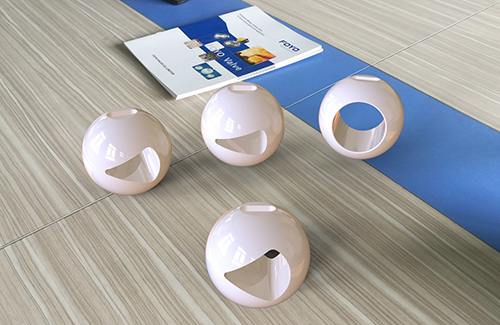 Please feel free to give your inquiry in the form below. We will reply you in 24 hours.